Description
Ultra-Thin Live Fit Frame (2K) – Offers the same benefit as regular Live Fit frames, but sit closer to your face – just like regular glasses – which makes the frame virtually invisible and offers superb peripheral vision.
Lens
Spherical Fusion Double Lens (FDL) – This next-generation spherical double-lens uses lamination instead of an additional foam layer which means 20% larger field of vision, no refractions, reflections or fogging.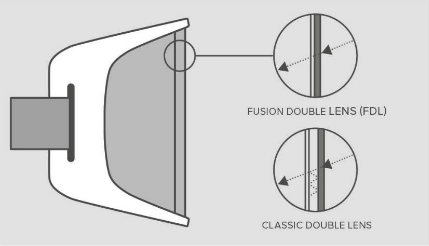 HD Lens Technology – High-definition contrast lens technology uses crystals in the lens to create incredible snow visibility in all light conditions.
8x Anti-Fog Inner Lens (AC) – The inner lens of all FDL lenses offer up to 8x more anti-fog properties than industry standards, withstanding fogging over 240 seconds in controlled lab tests (vs the standard 30 second test).
Hydrophobic Lens Coating – A durable coating that repels moisture, grease, and dirt. Water drops roll off and disperse without streaking, while fingerprints can be easily removed.
Supreme Anti-Scratch Outer Lens (PC) – Hard coating on the outer lens with excellent anti-scratch properties so you'll always have a clear view.
Strap
Silicone-Coated Strap – This coating on the inside of the straps means they don't slide around or ride up.
Face Foam
Adaptive LF Tri-Layer Face Foam – Made of special Memory Face foam, standard face foam, and a quick drying fabric layer next-to-skin that instantly molds to your face, for an individual fit straight out of the box.